It's the most wonderful time of the year and as we decorate our home with fairy lights, our tree with tinsel and our table with delicious food, we should also take the time to treat ourselves to some colourful and magical nail art! Sure, winter time gets expensive with all the gift giving but saving some of the budget means you can gift yourself a fresh new set in time for Christmas day. And if you blow the budget on an extra-large turkey and a bottle of champagne, why not get creative and try doing it yourself? After all, Christmas only comes around once a year, and girl, you deserve it!
Let us inspire you with some of our favourite picks for the season! We have collected a variety of nails featuring hand-painted designs, stamped designs, sequinned designs and more so you're sure to find the perfect style for you.
PINK GLITTER BAUBLES
We love this combination of colours, pink glitter and eye-catching sequins, plus the festive bauble with its little bow gives the set a festive feel!
Source: @nailedbymary
PURPLE AND BLUE SNOWFLAKES
You can't get much more festive than with a cute snowflake design! We've all seen white snowflakes on dark red and midnight blue nails but this shimmering purple and blue set is a gorgeous alternative that will look stunning with any outfit. Depending on where you live, you might not get a white Christmas this year, but these snowflakes are a good start!
Source: @sharingvu
CHRISTMAS TREE ACCENT NAILS
The idea of bringing a tree into our homes to decorate has been around for thousands of years, so why not pay homage to the annual tradition with a Christmas tree-inspired set of nails? This silver Christmas tree accent nail gives this shimmering set a festive feel. Silver and black is the ideal combination, or you could try it with a midnight blue accent and a few white dots of snowflakes to mix things up a little.
Source: @alllacqueredup
WINTER WONDERLAND
These stunning nails will make you feel like you're walking in a winter wonderland with their forest trees and falling snow. We love the ombré effect with the grey hues!
Source: sassyshelly.com
EMERALD REINDEER
This festive set of nails features a stunning glittery emerald hue and we just love how the reindeer pops right out against the white polish! The plaid nail is an elegant addition with it's pale greeny-blue hue.
Source: @melcisme
RUDOLPH THE RED NOSE REINDEER
We all grew up with the festive tune about Rudolph and how he was perfect for leading Santa's sleigh, so why not decorate your accent nail with his happy face?! This Christmassy shade of red is paired beautifully with large eye-catching snowflakes and a reindeer accent nail with Rudolph's red nose!
Source: rina-alcantara.com
THE GRINCH NAILS
Inspired by one of the most popular Christmas movies of all time, these hand-painted Grinch inspired nail designs are paired with green glittery nails and red and white candy stripes. We especially love the bauble that the Grinch is holding!
Source: @The_Nail_Lounge_Miramar
SNOWFLAKE STAMPS AND SEQUINS
The colours and combination of the simple snowflake designs on these nails guarantee they will look amazing with practically any outfit! The snowflake stamps look beautiful against the grey nail varnish and the shimmering sequins stuck to each nail really makes them pop! We love the addition of two pale pink nails to finish the look.
Source: @ana0m
FESTIVE DESIGNS MASH-UP
The combination of colours and designs are making us feel like we're about to burst with Christmas spirit! From Rudolph to holly leaves and candy stripes, these nails have it all.
Source: @polishedtwins
SLEIGH-ING IT
Jingle all the way and sleigh this winter with these Santa's sleigh inspired nails! The silhouette-effect of the stamped reindeers stands out against the pale grey polish and we love the added snowflakes! Santa only comes to visit us once a year so why not pay homage to the tradition by giving him and his helpers pride of place on your nails?!
Source: cajondelosesmaltes.com
ALL GOLD EVERYTHING
These golden nails remind us of wrapping paper patterns but we still love them! Their eye-catching snowflake and Christmas tree patterns are festive favourites and the gold sequinned accent nail finishes the look. They would look amazing with most Christmas outfits, especially anything blue!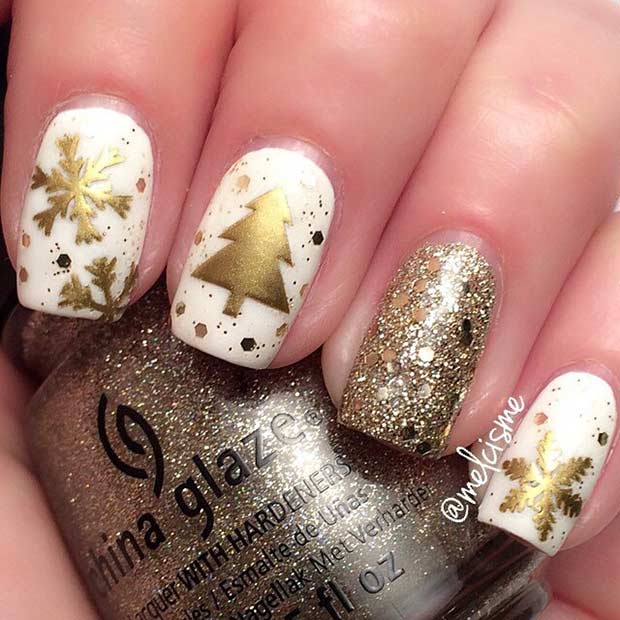 Source: @melcisme
THE 'WHERE'S-THE-SNOW?' NAILS
Last, but definitely not least, is a bonus addition for the list. If you live in a hot country, you might be preparing for a Christmas barbecue or a day at the beach and you might not have even experienced real snow falling at your feet. So if you don't want to decorate your nails with snowflakes, that's totally understandable! These tropical Christmas nails are a fun and cute addition to any outfit with their bauble-decorated palm trees and pink flamingoes in Santa hats! We love the little sparkly shoes under the palm trees – there's no need for warm and fluffy boots when the sun is shining.
Source: @naq57
Whether you prefer snowflakes, reindeers, Santa's sleigh or Christmas trees, we all love to personalise our nails to our taste at Christmas time! Have fun mixing and matching a variety of designs and colours to suit your outfit this year and let us know your favourites in the comments!